Latest News from Wath Hall
News Release 24/06/17 - Book Launch
Mr Patrick Binns, aged 15, has written a book entitled "The History of Wath Hall". The picture below shows Patrick with the mayor Mrs Eve Rose Keenan and her consort Mr Patrick Keenan. The photograph was taken at Patrick's private book launch at Wath Hall on Friday 26th May. Books are now available from Wath Hall priced at £4.99. A donation from each sale goes directly to Wath Hall Limted charity.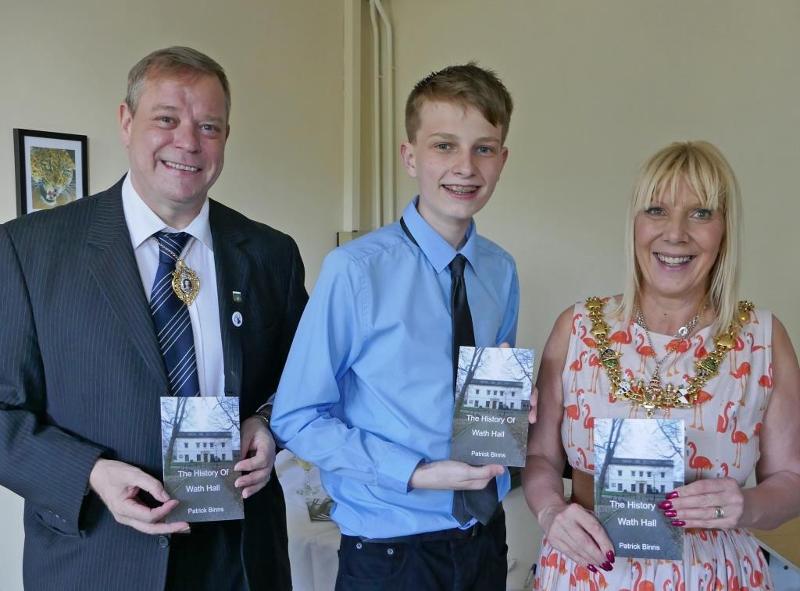 News Release 21/06/17 - Competition Winner
We are proud to announce the winner of the Wath Hall photography competition on Saturday 10th June.
The winner of the public vote was Mr Chris Oldfield with his beautiful and evocative image of Wath wood in the snow entitled 'A touch of Red'
Chris won the Butterfly Gallery cup kindly donated by Ray Lewis (Volunteer curator for the exhibition) and prize money. Chris is a regular volunteer at wath Hall and a member of new Image Camera club. Well done Chris!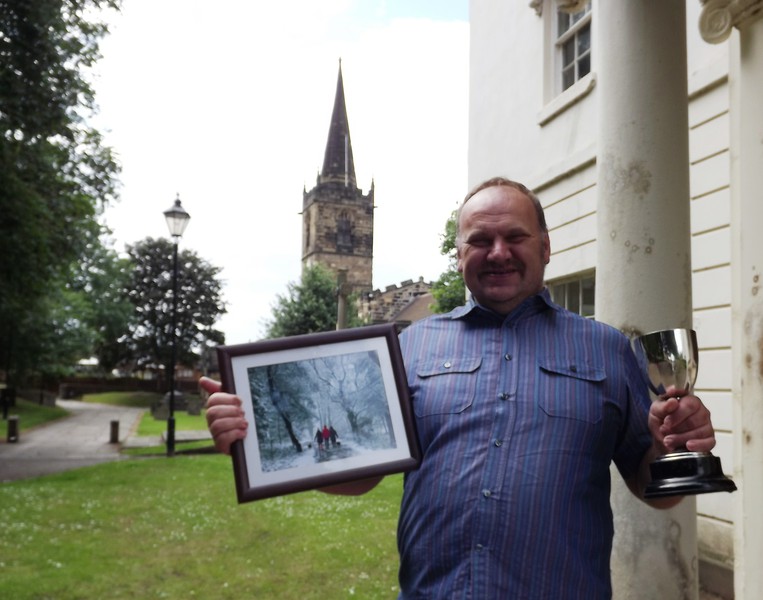 News Release 06/09/16 - We are now a Registered Charity
Wath Hall is now a registered Charity (Number: 1168736). The Charity Commission agreed to the charitable purpose of the business and it will now be regulated by the Charity Commission. This will allow us to apply for certain funding options and will give confidence to donors that their funds can only be used for the purposes intended. We will shortly be launching a Just-Giving option to collect funds from local and other supporters to help us to build the case to convince Rotherham Council to allow the Hall to be used as a Community Venue for the next 25 years.
News Release 06/07/16
Wath Hall has been transformed and the downstairs is now virtually ready for re-occupation. We are in discussions with Rotherham Council about amending our lease so that we can start to hire out the rooms in building on a one-off or longer term basis.
The management of the Hall now needs to move up a gear and we are currently "recruiting" a Management Committee. This will be a volunteer role but is your chance to influence the future direction of the Hall and to work "hands-on" in any way you can and hopefully have a bit of fun and meet new friends. We are looking for around 15 people with specific skills or prepared to learn to help with all aspects of the hall. Full details can be found on our volunteering page or contact us to discuss how you can help.
News Release 14/12/15
The handover from the council is about to take place. Next week we are having a couple of open sessions for volunteers to come along to talk about how you can help. Wednesday 9th December from 10.00 am and Thursday 10th December from 4.00 pm. Come into the main door (old building) and lets talk about how you can help to re-launch the Hall as a community asset. If you cannot get along then, you can volunteer via our Contact Page
News Release 03/11/15
Progress is being made with Rotherham Metropolitan Borough Council. Heads of Terms have been agreed and the legal department of the Council are now drawing up the lease agreement.
Wath Hall Ltd, the charity set up to manage the project, have submitted a bid for some initial start-up funding and are now very keen to get a professional (or experienced) bid writer to volunteer to help. If you are interested, or know anyone else who may be, please contact us on our email wathhall2015@gmail.com or fill in the form on our contact page.
News Release: 16/09/15
Wath Hall Ltd get the provisional go-ahead to take over Wath Town Hall
Following discussions with Rotherham Metropolitan Borough Council, Wath Hall Ltd, the charity company set up save Wath (Town) Hall as a community asset, has been given the go-ahead to take a 12 month lease on the property allowing time to develop a long-term sustainable future for the building to be used for the community. The details of the lease are still to be finalised but the agreement to offer Wath Hall Ltd a 12 month lease is a great achievement for the small but motivated group of volunteers who have spearheaded the campaign to maintain the Hall for the people of Wath.
The steering committee is now seeking volunteers to help "open the doors". This will include types of volunteering from painting to cleaning to gardening to care-taking, but also fund raising, bid writing, volunteer management, and trades skills such as electricians and plumbers. Whatever your skills and experience the committee would love to hear from you about how you can help them open the doors of Wath Hall to the community of Wath. To check out specific opportunities, or to offer your skills and experience, please CLICK HERE and fill in the contact form.